Bridge Cottage Keswick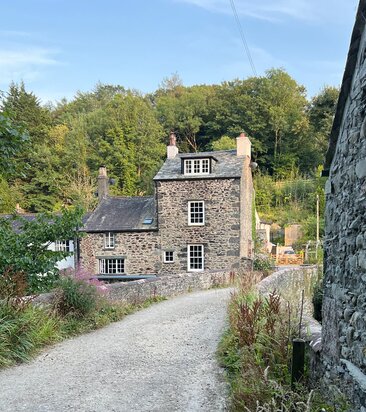 See more photos
Bridge Cottage is a comfortable and cosy two bedroom cottage for up to four people. Situated in a secluded location overlooking the River Greta in Keswick, it is only a 15 minute level walk to the town centre and has the benefit of walks directly from the doorstep, to nearby Latrigg, Skiddaw and Blencathra. The cottage is very well equipped, including Sky TV, Wifi (30Mbps) and dishwasher. The cottage is centrally heated throughout.

Bed linen, towels (bath, hand & tea), washing-up liquid and hand soap are all included at no extra cost as are all utility costs.

We are a non-smoking property and are unable to accept pets.

Bridge Cottage has been rated as a Four Star Self Catering property set against the VisitEngland Tourism Standards.
Double Bedroom With River View
Double Bedroom With River View
Availability
Sleeping arrangements
Two double bedrooms - a double bedroom to the rear of the property with river views and a double bedroom at the front overlooking the cottage garden. Both bedrooms have high quality mattresses.
Interior layout
Open plan living room, dining space and kitchen are located on the ground floor. Bedrooms and family bathroom with bath are located on the 1st floor.
Exterior
Front garden with seating. Private parking for 1 car.
Facilities
Dishwasher
Fridge
Freezer
Cooking hob
Oven
Microwave
Toaster
Kettle
Linen provided
Bath towels provided
Bedding provided
Cot/ Travel cot
Hair dryer
High chair
Iron / Ironing board
Washer/ Dryer
Dining area

Smoke Detectors

Carbon Monoxide Detector
DVD player
Satelite radio
TV
Smart TV
Satellite TV
Streaming service (such as Netflix)
Internet access
Free Wifi
Main door / Private entrance
Private garden
Designated/ Private parking
Free parking
Central heating
Pets not allowed
Bathroom(s) 1
Great for
Adventure
Countryside
Family
Secluded
Accessibility
Level access to ground floor but Bridge Cottage is not wheelchair accessible due to uneveness of external surfaces.
Rules
Floor plans
Bridge Cottage Keswick, Keswick, England
Parking
Designated parking space for one car.
Nearby
Countryside
Hillside
Mountain
River
Bridge Cottage is a riverside property located less than a mile from the centre of Keswick and less than two minutes walk from the Keswick to Threlkeld Railway Path. We are about four minutes walk from the local bus stop which provides bus services to Penrith (X4 service) and Kendal (555 service). We are approximately 16 miles from the M6 motorway (J40) and Penrith railway station.
# reviews of Name Location
# reviews of Name in Location
Guestbook reviews
The cottage was in an ideal location, only 10 mins walk from Keswick, and also very close to the local bus routes. The cottage was very clean and had more than enough plates, cups and kitchen utensils for 4 people. Would definitely stay here again.
Alan (Southport, UK)
- 15 May 2023
Bridge Cottage Keswick
https://cdn.tribalogic.net/uploads/4c/1075981.jpg
Keswick, CA12 4NX, United Kingdom
Anonymous guest
Lovely clean cottage in a good location for direct access walking routes & also a 15 minute walk into town for pubs etc.
Stephen (Blackburn, UK)
- 18 Mar 2023
Bridge Cottage Keswick
https://cdn.tribalogic.net/uploads/4c/1075981.jpg
Keswick, CA12 4NX, United Kingdom
Anonymous guest
Excellent property in an idyllic riverside location. Very comfortable and a feeling of home. Would book again and love having the wood burner on which unfortunately wasn't able to be used for safety reasons. It is to be repaired soon so will be back in use. Great location 15 minute walk into Keswick for all amenities needed.
Andrew (Sheffield, UK)
- 29 Nov 2022
Bridge Cottage Keswick
https://cdn.tribalogic.net/uploads/4c/1075981.jpg
Keswick, CA12 4NX, United Kingdom
Anonymous guest
We had a lovely relaxing break. The cottage was very well equipped, a nice kitchen with everything you could need. The reclining sofas were very comfortable . Bedrooms and bathroom clean and comfortable. The location gave a feeling of seclusion, yet was not too far to walk into Keswick Town centre. We thought it may be noisy with the A66 passing overhead not far from the cottage, but any traffic noise was barely noticeable. The only downside was not being able to use the wood burner, but the central heating kept the cottage warm,so this didn't detract from what was a lovely week away and we would stay again.
Alison (Fleetwood, UK)
- 21 Nov 2022
Bridge Cottage Keswick
https://cdn.tribalogic.net/uploads/4c/1075981.jpg
Keswick, CA12 4NX, United Kingdom
Anonymous guest
Probably the best cottage we have stayed in, the location is unbelievable, so beautiful, really didn't want to leave! Very comfortable, warm, cosy and clean, well equipped kitchen, only disappointment was that the log burner was unusable, had a sticker saying do not use on it, was really looking forward to using it at least once, but we had a wonderful holiday, thank you.
Jayne (Cleethorpes, UK)
- 28 Sep 2022
Bridge Cottage Keswick
https://cdn.tribalogic.net/uploads/4c/1075981.jpg
Keswick, CA12 4NX, United Kingdom
Anonymous guest
Enjoyed our stay. Clean and comfortable. Great quiet location. Ideal for bus service and walking into Keswick.
Elizabeth (UK)
- 25 May 2022
Bridge Cottage Keswick
https://cdn.tribalogic.net/uploads/4c/1075981.jpg
Keswick, CA12 4NX, United Kingdom
Anonymous guest
Professional reviews
Set in a secluded part of town, overlooking the River Greta, Bridge Cottage is just a 15-minute level walk from the town, with plenty of other walking routes available from the doorstep. Sleeping four in two double rooms, the cottage is comfortable and well equipped, an ideal place to relax or explore this beautiful area. Perfect for walkers looking to explore the area around Keswick.
M. Woods, VisitEngland Assessor
- 30 Nov 2022
Bridge Cottage Keswick
https://cdn.tribalogic.net/uploads/4c/1075981.jpg
Keswick, CA12 4NX, United Kingdom
Anonymous guest